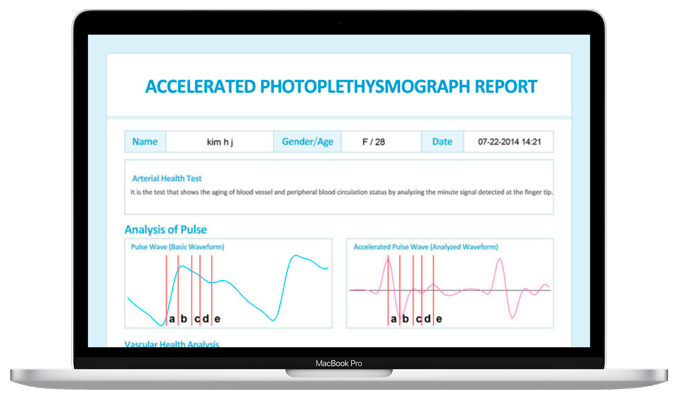 Discover all the powerful features of the Max Pulse Device. The Max Pulse test is non-invasive and the arterial portion can be completed in just 1 minute.
The Max Pulse uses a sophisticated algorithm to interpret the heart beat as it moves through systolic and diastolic. The Max Pulse has incredible accuracy and provides diagnosis in a very short time.
Peripheral Vascular Health
Max Pulse also looks at circulation for perihperal circulation and shows an index on the final report which indicates whether perihperal  circulation is optimal. 
The Max Pulse will detect a weakened heart beat from the pulse strength and indicate when patients are entering early stage congestive heart failure providing a third vital early warning for primary care. 
The Max Pulse is capable of measuring a person's stress level. The total stress score on a scale of 1 to 100, where 1 is zero stress and perfect autonomic nervous system function
Electro Cardiac Stability
The Max Pulse will help you detect an irregular heart beat by scoring the patient for ectopic beats. When the heart is beat irregularly it is the first thing that has to be managed as you move forward with you patient's cardio health. 
Max Pulse is a non-invasive
The Max Pulse is a non-invasive, FDA Cleared, Class II medical device that uses a pulse oximeter to detect and interpret the arterial pulse wave using a proprietary algorithm.
Max Pulse

Incredible Features
Strong Reimbursement Model – Being able to monetize this preventative care screening can significantly increase practice revenue. Doctors who have the MaxPulse have been billing insurance for this test successfully.
The Max Pulse uses a technology called Photo-Plethysmography, which allows it to give an estimate of the arterial stiffness of a patient with a simple 1 minute test.
This gives Healthcare Professionals a powerful new tool and advanced technology that provides:
The Max Pulse provides information by way of a non-invasive, infrared light fingertip probe. The measurement probe consists of a light-emitting diode (infrared LED) and a photodiode placed on the opposite side as a light receiver.  The Photodiode detects the changes in the amount of light absorbed by hemoglobin, which tracks against time the density of blood in the fingertip, allowing the device to graph the pulse of blood flowing from the heart.
The Max Pulse converts the changes of transmitted light into a waveform and the second derivative pulse waveform to provide a better evaluation of arterial aging.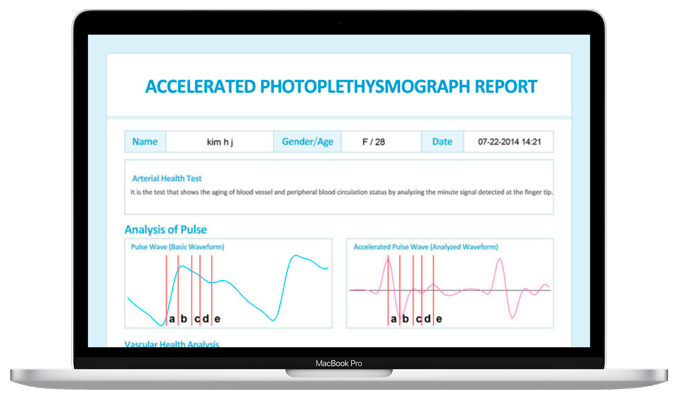 Boost your quality of care
840,000 CVD Deaths in The US Every Year
351 Billion Dollars Estimated annual total cost of CVD in the United States
One American will have a myocardial infarction every 40 seconds.
One Million Americans will have a coronary event in 2019
Max Pulse

Detailed Information
The Max Pulse is an FDA approved Class II medical screening device used to assess arterial hardening, circulation, heart rate variability, and autonomic nervous system function.  The test is non-invasive and is administered by placing a photoelectric clip on the fingertip for only 3 minutes.  This device provides analysis and measurements using Photoelectric Plethysmography along with Accelerated Plethysmography regarding overall cardiovascular and autonomic nervous system health.
The Max Pulse generates two separate reports – one for arterial health and one for the autonomic nervous system using HRV. These two reports work very well together. The arterial health report shows arteries hardening. When a persons ANS is heavily stressed, cardio events are more likely to be fatal. So the Max Pulse also shows the state of the ANS. The two reports show you how likely a cardio event is and how serious it is likely to be.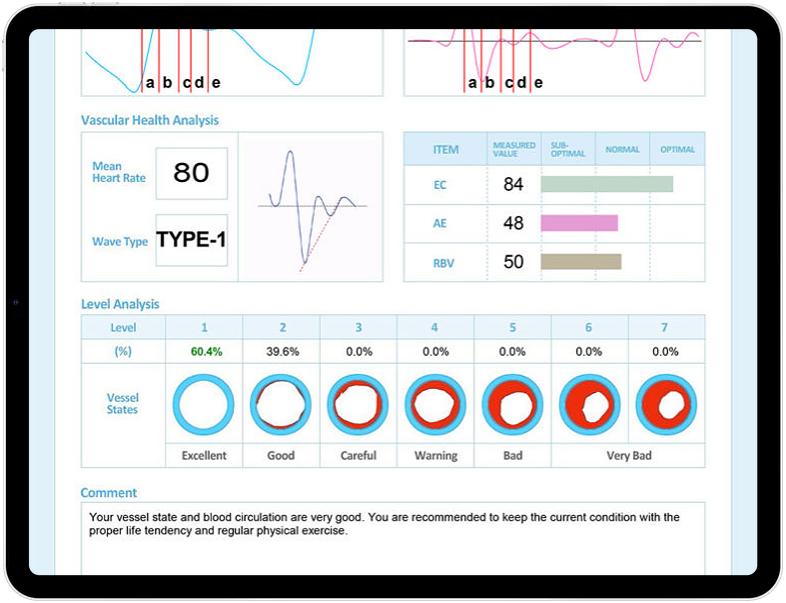 Measuring blood at the fingertip, the device graphs the heart beat as it moves through systolic and diastolic pressures. The more flexible that the arteries are, the more deviations will show on the graph. If the graph is tight and more regular, it can be an indicator that the arteries are stiff.  The analysis also separates results for large and small arteries, along with capillaries.
If indications are that the larger arteries are constricting and appear to be hardened, then this could be a red flag indicating that further testing needs to be completed.   With younger people and/or those showing no symptoms, this information would be a valuable tool in identifying health risks that may have not been realized otherwise.  Max Pulse is also a good monitoring tool to compare "before and after" results once modifications are implemented to reduce cardiovascular disease risk.  Arterial stiffness is a precursor for atherosclerosis and early detection along with possible treatment are crucial to prevent major cardiovascular events.
The fluctuation of HRV (Heart Rate Variability) is controlled by the autonomic nervous system. Its two functions are split between the sympathetic and parasympathetic nervous system, or fight/flight process and relaxation response.  Many things can affect this balance of stress and relaxation including illness, stress, excitement, exercise, poor diet, etc.  However, when someone is exposed to chronic or severe stressors, the fight/flight response stays heightened and moves in to overdrive.
Testing HRV through the Max Pulse can help to identify imbalances.  If someone has a healthier HRV (variation between heartbeats is faster), it shows more resilience and flexibility.  If the variation between heartbeats is low, the fight/flight system is engaged higher than it should be.  Research has shown that a low HRV is associated with an increased risk of cardiovascular disease, and even death.
Max Pulse also looks at circulation for large and small arteries and shows an index on the final report which indicates whether or not circulation is optimal.  If blood flow is obstructed, this is another indicator of atherosclerosis.
The Max Pulse is shipped from a Texas supplier of medical equipment.  A finger probe, full-sized laptop, and software are all included.  When it ships to you, it will be ready for use and just requires you to power it ON.  A one year warranty is included with your purchase, and a five year warranty is available for an extra cost.
The Max Pulse provides a three-minute test to detect arterial hardening and stress levels. It's non-invasive and uses a photoelectric clip on the fingertip.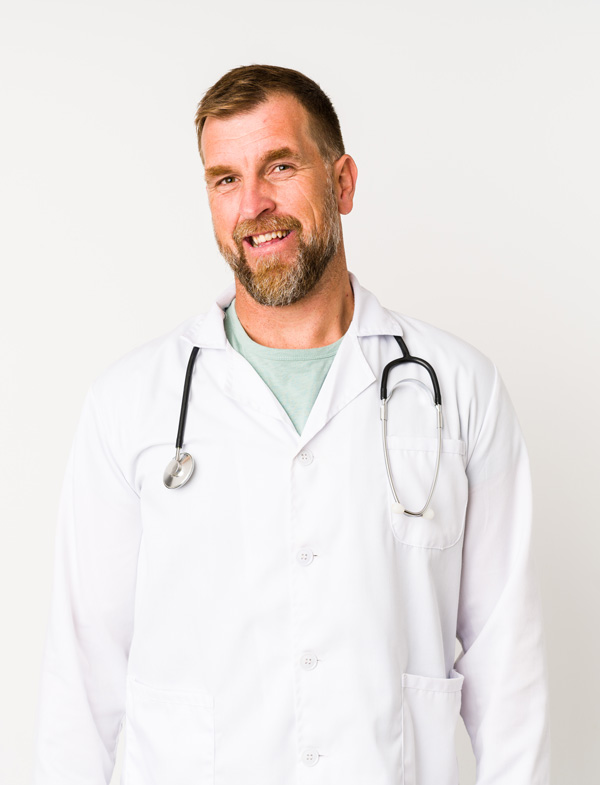 Dr Birken
MD FACOG Houston Texas
The Max Pulse device offers a simple, quick, and highly informative test for endothelial function as well as vessel integrity. This allows the clinician to identify patients at risk for cardiovascular disease allowing for appropriate counseling regarding lifestyle, diet, and supplemental changes as well as referral to a cardiologist if indicated. Also, patients appear more motivated to become proactive when discussing these test results.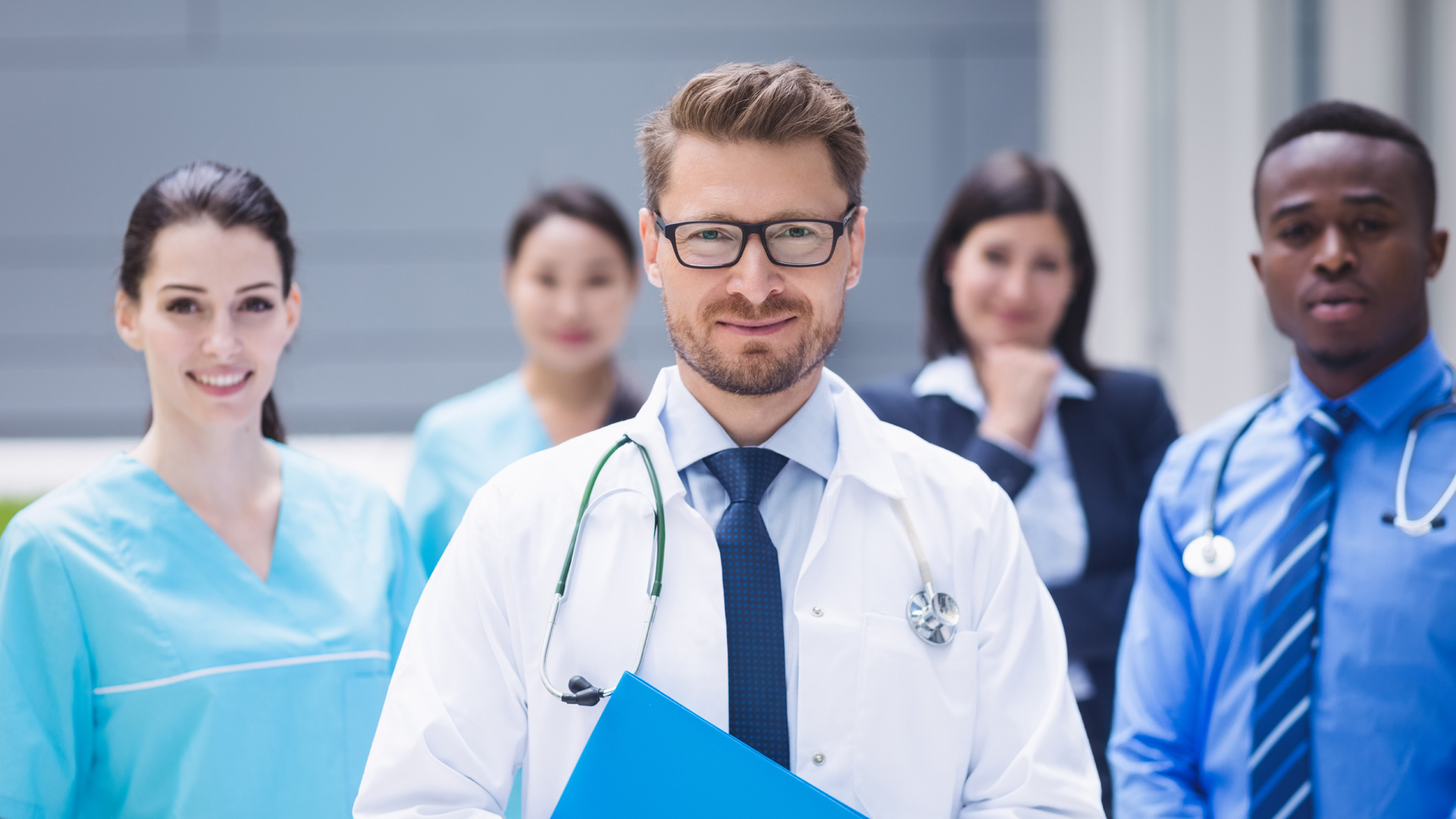 Steven J. Bednarczyk, DO
Medical Director of North Hills Health and Wellness Certified, The Bale-Doneen Method
The Max Pulse is a true game changer. It is an excellent screening tool for assessing the endothelial function of the vessel wall in addition to providing information on ANS balance. When a positive test for advanced arteriosclerosis is obtained, a carotid duplex with CIMT is performed in the clinic and a stress test is performed on the patient. This process led a few patients receiving cardiac catherization or carotid stenting due to the severity of their atherosclerosis. As a Doctor of Osteopathic medicine, I find the ANS report created by the Max Pulse to be of value as well. I use the device before and after manipulation to show the patients changes in their ANS balance. The Max Pulse is a great device for any office.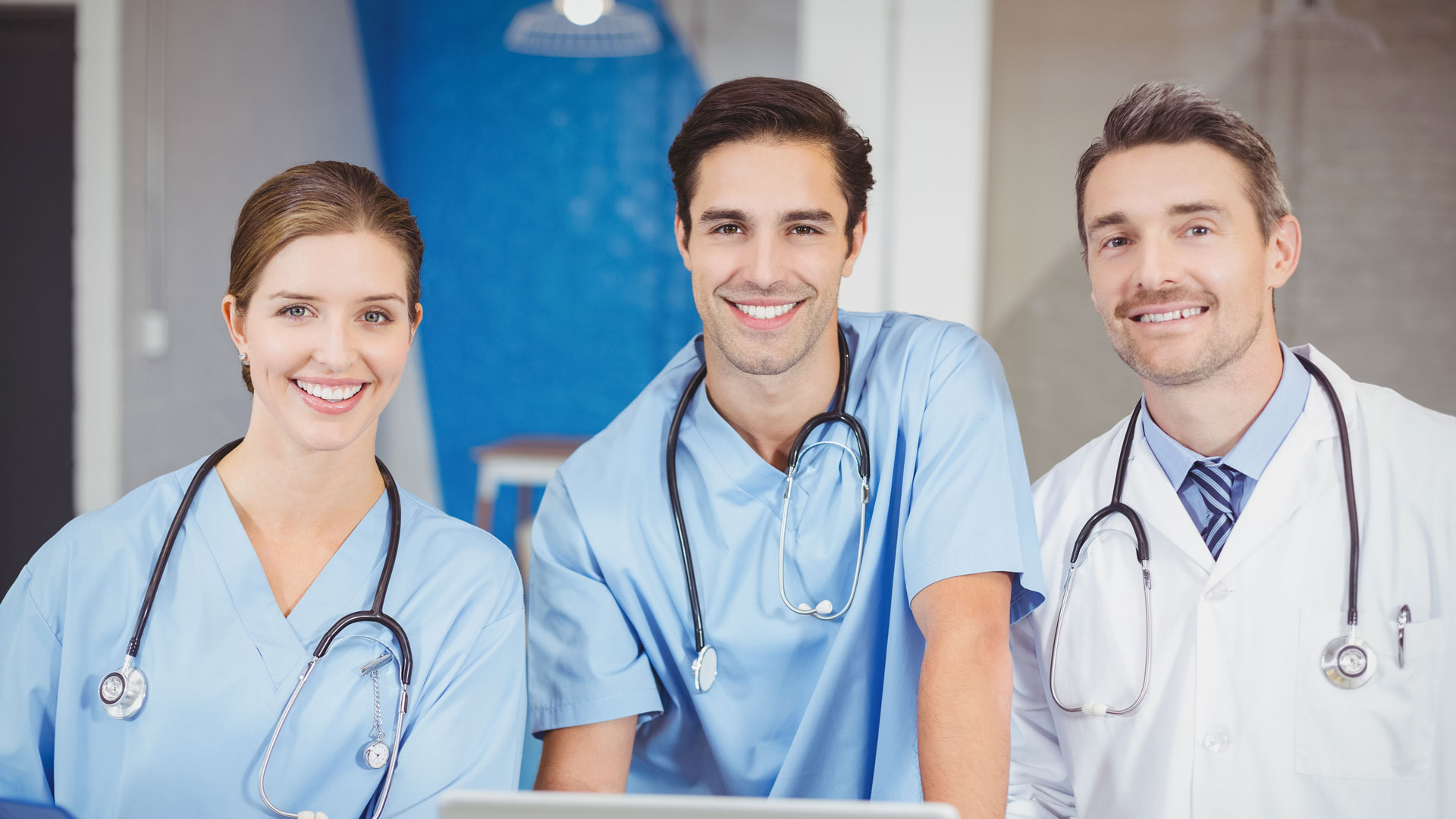 Dr. Daniel A. Eyink MD
Board Certified in both Internal Medicine and Medical Acupuncture.
I am an internist in Newburyport, MA seeing over 120 to 140 patients weekly. I cannot overstate the value of using the Max Pulse. Every patient over 50 is screened for cardiovascular prevention. The analysis print out is easy to understand based on measurable parameters of arterial elasticity, arterial contraction, and residual blood. The patients understand the relationship to arterial health and get the importance of follow-up testing to see if our treatments document substantial improvement. Secondly we use the heart rate variability testing to assess autonomic nervous system health. For example, we want to know if someone is stuck in sympathetic dominance. We want to know if the patient is highly stressed and has no residual reserve. We document improvements in stress, endurance, mental health, and digestion using the HRV analysis as well as by symptom management. Our goal at our clinic is to prevent cardiovascular problems. Knowing that the arteries have excellent elasticity and contraction gives me reassurance that we are doing more than what is required by the standard of care. I cannot imagine working without the Max Pulse at our clinic.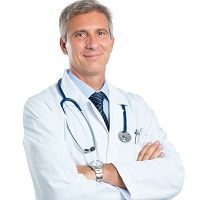 Dr Lynn Chiassan DN
Doctor of Naturopathic Medicine in Moose Jaw Canada
I have had the Max Pulse machine for 8 years but now with the new update I am so happy to now be able to offer this test routinely to all my patients. At my clinic I try to focus on preventive health and I am glad to have the Max Pulse to motivate my patients to become more proactive when discussing these test results. It is portable and easy for me to do events with because the Max Pulse is so easy to use. It has a graphic readout of results that is easy for the patients to understand and they can take a copy home with them right away.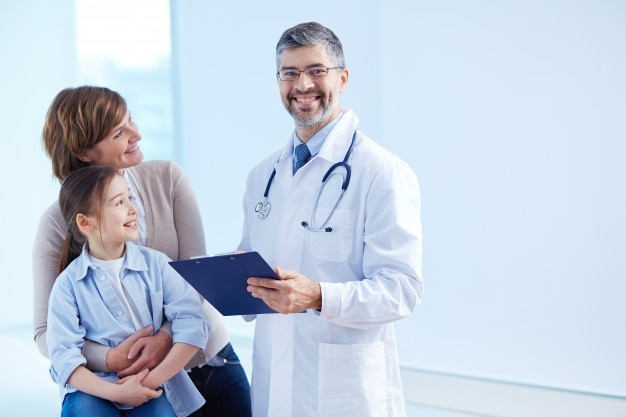 Dr. Anthony Tortorella
Chiropractor Sport Hill Chiropractic and Rehabilitation Adjunct Professor, University of Bridgeport School of Chiropractic
The MaxPulse is an easy to use and easy to integrate program that is both easily understood by patients and easily interpreted by doctors. It's just easy on everyone. People are becoming more acutely interested in their health and well being before they are diagnosed with a condition, especially since the coronavirus pandemic. The MaxPulse gives me the opportunity to provide a real time look at a patient's current arterial and autonomic health, and allows us to start down the path to better health before entering a state of disease. Additionally, Wayne Baumgarten was incredibly helpful and attentive in getting me set up with the software, execution of the screening, and interpretation of the data. Thankful to have a support person that handled the situation so quickly and professionally.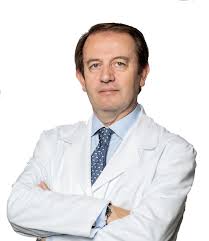 Dr Kyle Yoder, DC Q.M.E.
Chiropractor Santa Rosa CA
The Max Pulse is easy to use, has a graphic readout of results that is easy for the patient to understand and is impactful for the patients to have in their hands. Many of the patients who have detected problems have decided to let us help them improve their results and with the Max Pulse we can re-test them to verify that through the treatment they are indeed improving demonstrably. For any doctor who wishes to add a dimension of cardiovascular health testing and treatment to the services they offer I cannot recommend any better investment than this excellent diagnostic device for their practice. The testing does not take long and while I do it personally, it would be equally possible for staff to be trained.
It's Easy To Purchase A
Max Pulse
We've seen the incredible results from Max Pulse with so many doctors, so we wanted to make it as simple as possible to get it to everyone. That's why we offer excellent financing options with low monthly payments, which make it easy to put the Max Pulse in your office or clinic right now.
Option A
Outright Purchase with 5 Year Warranty
Option B
Month to Month Rental
(Return at Any Time)
Max Pulse device with 5 year Warranty
Laptop with software preloaded and tested
1 finger probe and all attendant power cords & connection cables
Computer Software Program (Windows 7, 8 and 10 versions)
Training Manual and manufacturer's User Manual
Research documents on Pulse Wave technology and Heart Rate Variability
Patient education brochures that explain what the test is for Excellent customer support
We will ship your Max Pulse in the Continental US by 2-day FedEx, fully insured. We guarantee shipping within three days of your payment, but shipping is normally same day or
next day. Our Quality Control staff will test your device thoroughly before shipment to ensure that everything is in perfect working condition.
Your Max Pulse will arrive ready to use, with an easy-to-understand instructional booklet. There are no hidden costs or ongoing fees.
The Max Pulse is easy to use and we have excellent and concise training videos that show the steps of software, performing the test and interpreting the results. We also offer on-line personal training at no charge for any questions not covered in the videos.